Program
Wednesday October 11th, 2023 (In-Person 7:30pm):
2023-2024 PNQG PROGRAM

To celebrate our final year as a guild, we have an engaging line up of 8 speakers starting in Sep'23 to May'24. We will once again have a mixed delivery format for our speaker program as follows:
In person: Sep'23, Oct'23 and May'24
Hybrid: Nov'23 and Apr'24 (*)
Virtual: Jan'24, Feb'24, Mar'24
Scroll down to see full details on each speaker.
In-person meetings will be held at Armour Heights Presbyterian Church, 105 Wilson Avenue, Toronto at 7:30pm.
(*) For the Nov and Apr meetings, our speakers will be virtual and we will "watch" as a group at the church. While you can watch the speaker portion virtually at home, the remainder of the meeting will be unavailable virtually.
We will not be recording any of our speaker presentations.
Because this is our final year, we are offering all current and past members to attend all meetings free of charge. As always, guests are welcome either virtually or in-person for a fee of $10 per meeting, or new members can join for the whole year for $45.
Click here to register as a new member or to join a meeting as a guest:
Wednesday September 13th, 2023 (In-Person 7:30pm):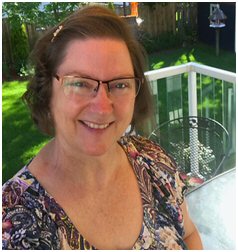 Sandy Simmelink (Burlington, ON)
"Miniature Handwork"
Sandy's work is two-fold, encompassing traditional Baltimore Album miniature wall hangings featuring intricate handwork that take years to complete. And, on the opposite spectrum, she creates miniatures that are wild and crazy mixed media works that are completed in months.
Her quilt, "Tulips for Wee Ava" recently won 2nd place at the 2023 CQA National Juried Show in Halifax (top left, below)
https://www.sandysimmelink.com/
Wednesday October 11th, 2023 (In-Person 7:30pm):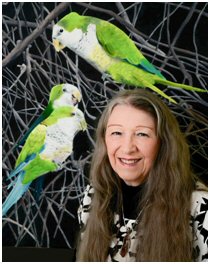 Sue Sherman (Newmarket, ON)
"Animal Kingdom"
Sue's fabric creations connect her to the spectacular places and wildlife seen in her travels. Her textile art journey includes experiments with many different techniques before settling on her current technique of painting with dyes.
Recently, 3 of Sue's quilts won awards at the 2023 CQA National Juried Show: "Life in the Anthroprocene" (Best in Show); "Assorted Miniatures (1st Miniatures) and "Sanctuary" (Sustainability Award of Excellence)
Wednesday November 8th, 2023 (In-person hybrid 7:30pm):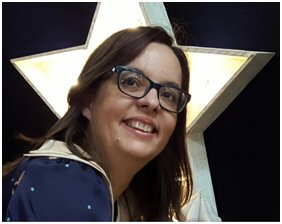 Cristina A Bono (Spain)
"Unleashing Creativity: Artificial Intelligence for Quilters"
In this special lecture just for PNQG, Cristina will explain and demo how we can use our tablets (iPad & Android) for machine quilting, appliqué and whole cloth designs. We'll learn how to use a tablet to learn, practice and audition machine quilting motifs and Cristina will show us 3 of her favourite quilting motifs on the tablet. We will also hear a little bit on how Artificial Intelligence is revolutionizing the world of quilting by unleashing new possibilities for creativity, innovation, and artistic expression.
Wednesday December 13th, 2023 (In-Person 7:30pm):
Holiday Social
Wednesday January 10th, 2024 (Virtual 7:30 pm):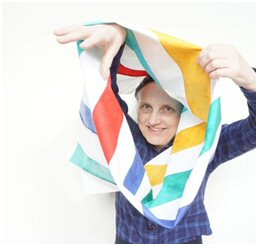 Irena Swanson (Indiana)
"Tube Piecing"
Tube piecing is an efficient and accurate way to make all-over triangle quilts, zigzag patterns with triangles & parallelograms, flying geese, pinwheels, stars… you name it!…Irena will show us how mathematics can simplify the cutting/seaming process!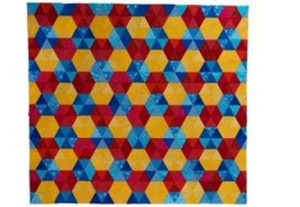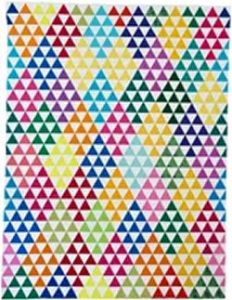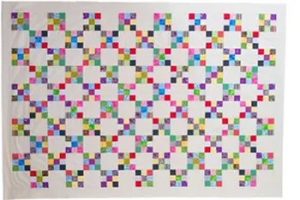 Wednesday February 14th, 2024 (Virtual 7:30 pm):
Atsushi Futatsuya (New York)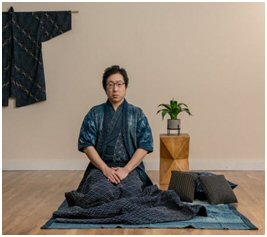 "The Art of Sashiko"
Atsushi is a Sashiko artisan and curator of the Sashiko story. His mission is to share what Sashiko is, to the world by sharing his experiences and the techniques used in Japanese hand crafting, with a focus on Sashiko Stitching. We will be introduced to the Beauty of Sashiko and the concept behind it!
Wednesday March 13th, 2024 (Virtual 7:30 pm):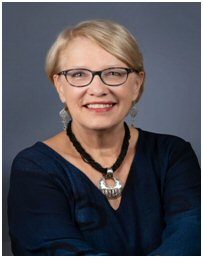 Rachel Derstine (Pennsylvania)
"Inspired by Architecture"
Rachel will talk about how she uses local buildings and vistas in the Philadelphia area as inspiration for bringing architecture to life. She will also share with us techniques on how she transforms these scenes into quilts
https://www.rachelderstinedesigns.com/
Wednesday April 10th, 2024 (In-Person/Virtual 7:30pm):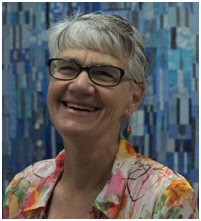 Vicki Conley (New Mexico)
"Inspired by National Parks"
Journey through the national parks and learn how Vicki combines photo inspiration and imagination to make graphic style art quilts. Vicki will touch on the various techniques including turned edge machine piecing, fussy piecing and silk screening
Wednesday May 8th, 2024 (In-Person 7:30pm):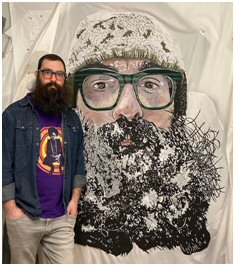 Fuzzy Mall (Dundas, ON)
"Textile Portraiture"
Fuzzy captures people in motion, in personal settings, doing things they love to do and what brings them bliss. More than ever, he needs to see people enjoying life's small moments. His work is created from raw-edged appliqué of mostly reclaimed fabrics
https://www.quiltedportrait.net/
Wednesday June 12th, 2024 (In-Person – Members Only 7:30 pm):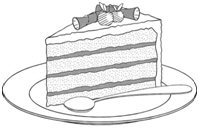 Farewell Dessert Social and Celebration!