PNQG Bazaar
In "Normal" times, each November, the guild participates in a bazaar run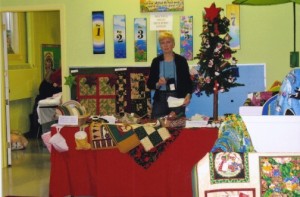 by Armour Heights Presbyterian Church. It is a major fundraiser for the guild, to help support the programme offered to members.
In "Covid-19" times we have had to adapt, and after the success of our September 2020 "Driveway Sale" we are planning another Driveway Sale in the Bayview and Eglinton area on Saturday September 25 (rain date Sunday September 26) – depending on the status of the City of Toronto lockdown. More details will follow. Contact Kate if you can volunteer to help out or if you have items to donate to the sale. Although on a smaller scale than our regular bazaar "room", there will be some lovely handmade items for sale. The Bazaar team has compiled a list of resources (with free patterns) that could be used to make items to donate.
Drop off your completed project or pick up a pre-assembled kit by contacting Kate at
bazaar@pnqg.ca to ensure that she will be home.
Income from sales go directly to supporting the guild's educational activities so please keep the donations coming…A big thank you to Julie G. who recently dropped off 5 lap quilts:
Save
Save