Challenges
2022 PNQG Past President's Challenge – What's in My Name
The Challenge:
Use your 3 initials to suggest colours, blocks and/or images to create a small
quilted item. If you don't have a middle name, use one of your other initials twice.
You must include 3 prompts – ie 1 colour, 1 block name, and 1 image; or 2 colours
and one block name, or 2 images and one colour…on the front of your project
(backing or lining do not count)
Your entry must be the equivalent of a finished, completed item – a top layer, a
batting/lining, and a backing; quilted or tied; finished as appropriate. Appliqué is
acceptable and will count as an image.
Up to a total size of 84", adding up all sides.
Consider making something that you might like to donate to Community
Outreach or fund raising….lots of possibilities – zip bags or totes, Ipad/Kobo cases,
table topper, placemat, wall hanging, etc)

Where to get ideas? Colour names from fabric lines, paint chips, kid's crayons.
Get block names from the internet, quilt books, magazines

Your Entry is due by May 3, 2022

A description of the challenge and examples, can be downloaded here:
15 Entries were received for the challenge. Click on the photos to see larger pictures without the text.
The two viewer's choice winners are:
2021 Past President's Challenge
Easy-Peasy Past President's Pincushion Challenge.

This year's twist on the challenge tradition, invites you to make a pincushion, using any needlecraftsewn, quilted, crocheted, knitted, cross-stitched, embroidered…whatever tickles your fancy right now. Make it whatever size and shape you think the perfect pincushion should be, as basic or as fancy as you like. We will be viewing our entries and voting for Members' Choice and drawing for participation prizes during our June social night. We'll ask everyone to send in a picture of their pincushion so that we can share them all on Zoom, but in the interests of making it easier still for everyone to participate, if you don't have the ability to send in a picture, pincushions will be easy to hold up to the Zoom camera to show everyone.
20 Entries were received for the challenge. The two viewer's choice winners are: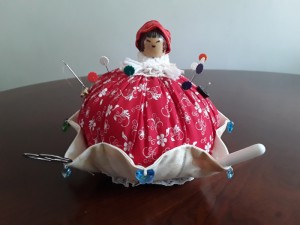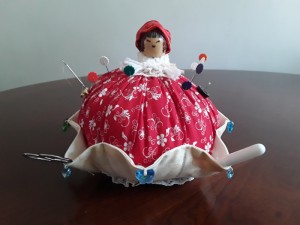 Other entries are: