Since 1962 the Native Canadian Centre of Toronto has been a key meeting place for all people, of all nations, from across Canada and all over the world. As Toronto's oldest Indigenous community organization and one of the original Friendship Centres in Canada, the NCCT provides social, recreational, cultural and spiritual services for the Indigenous community and visitors alike. NCCT's Mission Statement : to empower the Indigenous community in Toronto by providing programs that support their spiritual, emotional, physical and mental well-being by nurturing an inclusive environment where all people respect Indigenous knowledge. Their core values are Love, Respect, Bravery, Honesty, Humility and Truth.
The guild will continue to work with Wigwamen Inc….the umbrella organization for Wigwamen Terrace at Spadina & Bloor.
This year the items will go to a central contact, to distribute to a wider community including families, singletons, couples and seniors.
Items can range from baby & kids' quilts to adult comfort quilts, place mats, large mug rugs (to hold a cup & plate), walker & wheelchair bags.
items for Christmas would be gratefully accepted, such as personal care supplies (soaps, shampoo, body cream) grocery store (or other) gift cards, toys, scarves, mittens, gloves, warm socks for men and women.
In December 2020, the following items were delivered on the guild's behalf to Wigwamen, Inc. to help a community that has been very hard hit by the pandemic. Your contributions included:
36 quilts (for babies through adults)
6 walker/shopping bags
37 table toppers, placemats and mug rugs
a number of toys (some with their own little quilts)
women's clothing including jacket/vest, hats, scarves, mitts
financial gifts and gift cards
The following letter was received by the guild, detailing some of the specific programs they are delivering on an ongoing basis. (click on the photo to see a larger version):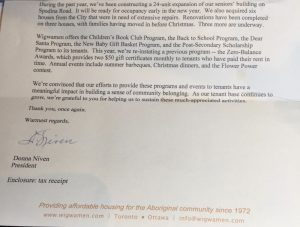 Wendy will continue to share feedback with us as to which items are most helpful as we continue to make quilted items for donation over the next months. Wendy has also shared a letter excerpt from Wigwamen detailing some of the specific programs they are delivering on an ongoing basis.
Contact Wendy or use the contact form on this website to arrange for drop-off of these items.
Meals on Wheels placemats are always accepted. Contact Gail or use the contact form on this website for drop-off instructions while the guild is not meeting in person.